Why CLT: Cross-Laminated Timber panels?
---
Natural materials have low emissions during the lifetime of a building and because wood naturally stores CO2, it also reduces the carbon footprint of the build.
---
CLT panels are pre-cut to be pre-assembled to a particular project`s dimensions and directly transported to a construction site. The CLT prefabrication period is completed 5-7 times faster than traditional projects. An efficient prefabrication period significantly decreases the erection of structural work, reducing economic costs, labor intensiveness, and construction waste. The manufactured pre-assembly of walls, floors, doors, windows and roof elements is on a smaller scale construction site. Ultimately, smaller - sized cranes, a minimum number of engaged contractors, and better waste performance. The development of CLT structures allows for the usage of higher quality materials than traditional construction projects as labour costs are comparably lower.
According to statistics, developed nations are responsible for "40%" of greenhouse gas emissions, "40%" of energy consumption, and "70%" of electricity (Chen, 2012, p. 8). In Ontario, overall building sector contribution to greenhouse gas emissions progress is "20.5%"; while the average household's energy spending is "$2,165" (Environmental Commissioner of Ontario, 2016, p.54 & Financial Accountability Office of Ontario, 2019, p.1). CLT houses have an efficient energy performance since wood is a renewable construction material and panel joints are tight fit, allowing to observe and store energy. In combination with solar batteries, these houses take advantage of the warmth, and light, reducing electricity bills. CLT solid panels have minimum airflow, resulting in only "⅓" of heat and cooling energy consumption in comparison to the average North American household (Wood Works, 2020). The acoustic system of CLT panels protrudes efficient sound transmission, while maintaining the noise control at a high level.
The panels' thick mass cross-section features allow the houses to be indubitably fire resistant. CLT`s dimensional stability and rigidity features allow a minimum level of structural deformation. An efficient lateral load resisting system performance of CLT is stable and rigid in seismic events.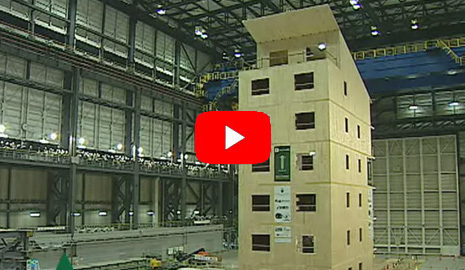 The main goal of this experiment was to demonstrate the structural integrity of the CLT building in response to an earthquake. The ultimate result of this simulation model showed a high seismic resistant level with almost no deformation.
The aesthetic presence of the CLT houses can be attributed to the structural simplicity of combining wood in modern contemporary and classic design innovations.